• Easy-to-assemble mobile mesh on commercial-type reinforced concrete bases to install on any field or area.

• Frames made of electro-welded mesh and 40 mm Ø tube posts, which are joined to the mesh by welding.

• Four longitudinal folds in the mesh that give it great rigidity.

• Each panel includes pre-installed connection pieces for connection between sections, by screw or similar.

• The mobile mesh is manufactured entirely in galvanised material.

• Finished in defensive points.

• It admits any alignment in the assembly, both straight and at angles.
Applications:
• Temporary fences in all types of environments.
• Enclosures for construction zones.
• Temporary enclosures of all kinds.
Presentation and packaging:
• Mobile mesh modules are presented in tied packages for hoisting with a crane or by forklift, of 55 units.

• The support bases are supplied on a pallet, separately.
Corrosion protection system:
• All our meshes are supplied with galvanised wires with a minimum of 40 g/m2 of zinc.

• Similarly, the posts are served galvanised, both indoors and outdoors.
Connecting pieces for posts:
• Piece stamped in galvanised sheet of 1.2 mm.

• With drill ripper to adjust the distance between posts.

• Supplied pre-installed, or separately, upon request.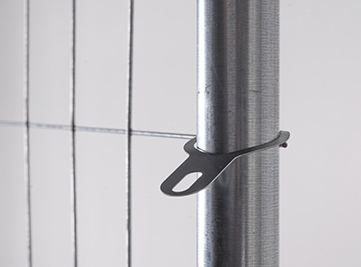 • Coupling piece (sold separately).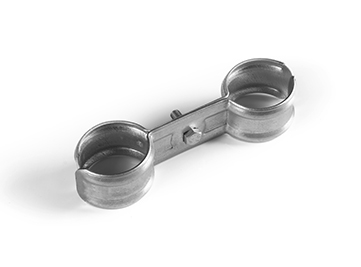 Reinforced concrete base for mounting:
Unit weight: 20kg. Center length: 220mm and 100mm.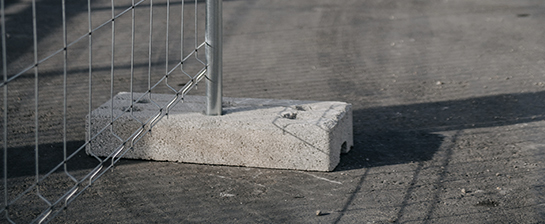 Model VM200
With a 200×125 panel, it is the most economical model, maintaining the same quality, finishing, and resistance as the rest of the models.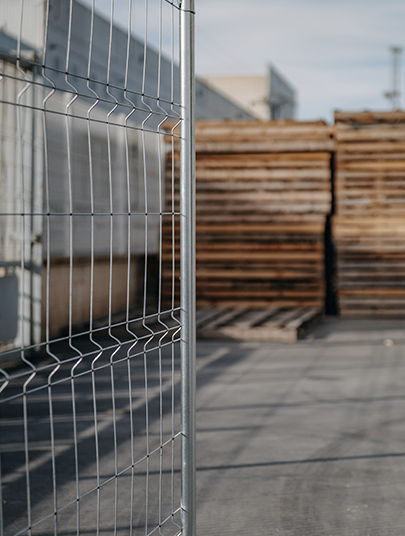 Model VM150
With a 150×125 panel, this model is more resistant than the VM200 model. All our fences are presented in packages of 55 units.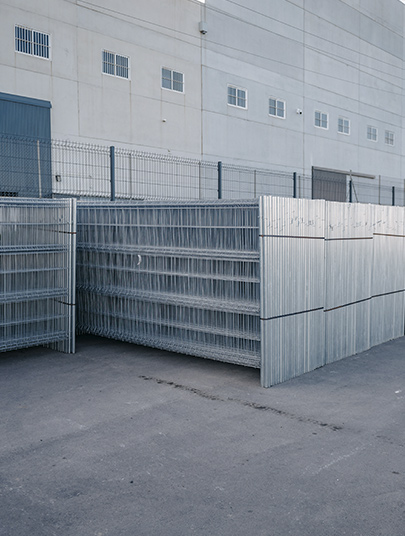 Model VM80
A 150×80 panel, this is the most robust model in the spectrum.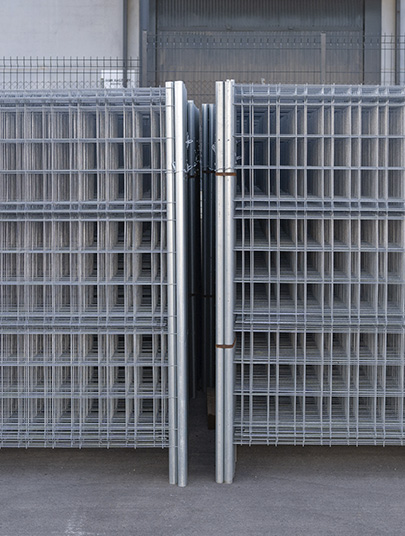 Maintaining the same characteristics and quality of our temporary panels, the framed temporary fence panels
have Ø 20 horizontal tubes that provide consistency and durability.
PRESENTATION AND PACKAGING:
The framed temporary mesh modules are presented in tied packages for lifting with a crane or by forklift of 50 units.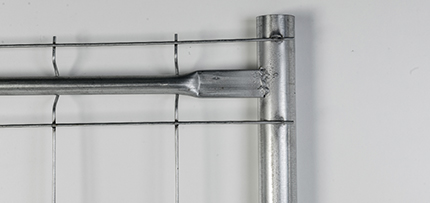 VALLA MOVIL 80 ENMARCADA 1900X3500

VALLA MOVIL 150 ENMARCADA 1900X3500

VALLA MOVIL 200 ENMARCADA 1900X3500

VALLA MOVIL 150 ENMARCADA 1900X3000
INSTALLATION FOR TEMPORARY FENCES
Installation
• The mobile mesh is supported on reinforced concrete bases, introducing the lower part of the posts in the housings in the base.

• Each base has two linear housing positions to adapt to the available space, and counterbalance the installation, giving stability to the mounting.

• Once the panels are assembled on the support bases, the adjoining posts are joined using a connecting piece.
Postes, puertas y accesorios
Postes, puertas y accesorios